Admired by the critics and loved by his audience, Garrone is a true cinematic genius capable to tell the truth about the Italian suburbs.

One of the main Italian contemporary cinematic geniuses is Matteo Garrone, a 50 years old director, screenwriter, and producer from Rome. Born and raised in an artistic context, his father is a theater critic and his mother a photographer. His most well-known works are "Estate Romana" (2000) "L'imbalsamatore" (2002), the world-famous "Gomorra" (2008), "Reality" (2012) and the latest acclaimed "Dogman" (2018). He is a unique talent and his greatest virtue is to have a unique point of view on Italy, with his stories describing hidden dramatic realities and true facts of violence. His special vision is combined with an overall excellent photography and a natural aesthetic sense.
Garrone's ultra-realism
Talking about himself, he remarked that his cinema is "between realism and visionary", give that his deep aim is to describe the real world free from any filters and without judging its actors. In general, he focuses the audience attention on people, suburban areas and lower social classes. When watching his movies indeed, you won't find the usual sublime Italian landscapes or the stereotyped lovely locals, as his main purpose is to describe uneasy situations and hidden realities that people don't want to see. Therefore, while crimes, violence, crime beats, outskirts, difficult contexts and criminality are the real protagonists, all his characters and sets are still defined and described precisely.
Dogman
In his latest feature, "Dogman", the director showed his classic dramatics suburbs with disheveled buildings and streets full of criminality, just like in "Gomorra", where he displayed some well-known rundown building on the outskirts of Naples. Here, we can see once more destroyed houses and gloomy atmospheres made of dangerous people and violence, common in some suburban areas around big cities like Rome. It is exactly in Dogman that the typical Rome that we are used to imagine, full of architectonic beauties and tourists, does not appear in favor of less pleasant dirty streets with few citizens and poor buildings. Marcello, the main character, lives in this scenario. He is a nice man with a simple life devoted to his work and to his family, but the violent costar Simone bothers his days. We see desolation and violence through his innocent eyes, as the movie highlights the contrasts and the opposites that coexist at the same level: there is innocence and brutality, softness and harshness. Dogman has the power to be the story of every decent person in an evil world.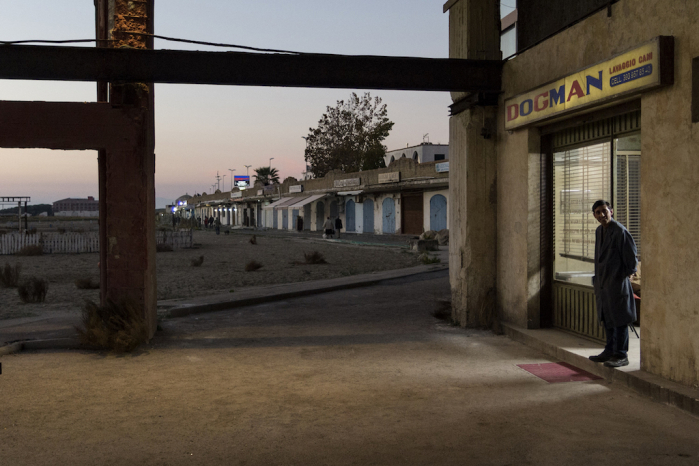 Other considerations and news
Garrone's greatest merit is thus to perfectly describe human beings and provide another kind of view on Italian cities and people, willing to show something different from the usual cliches. We've recently seen him at the Milan Film Festival where he has talked about his past works: but it's now time to look at the future and wait for his next movie, "Pinocchio", whose shooting will start in February 2019.